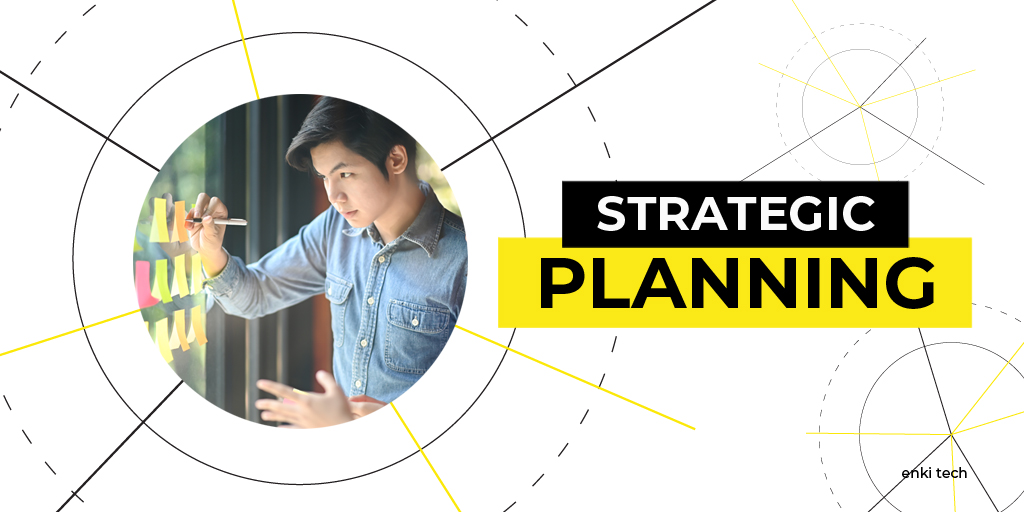 For entrepreneurs and business owners, the process of starting a new business or project can be daunting. For every successful new business, there is an even more significant number of others that have failed. Whether you are starting a project or a small business, creating a solid strategy for your venture is a fundamental part of the process if you want to succeed. What does it mean to develop a business strategy and to implement/execute that strategy successfully?
What is a Project/Business Strategy?
A strategy is typically a blueprint for a project or business that a company follows to achieve success. For example, the blueprint might outline who they are as a business, define who they want to reach and how to get to them, and identify the market they wish to enter.
To properly execute a project or business strategy, a business must also have an implementation plan. An implementation plan consists of accessing/gathering the resources (funding, marketing, research, etc.) necessary to execute a strategy correctly. For example, if a strategy is an outline, the implementation plan consists of the details required to reach the objectives defined in the outline. The ultimate goal of an implementation plan is to help a business move its project/business forward successfully.
Strategic Implementation Process
A strategic implementation process is designed to drive your project or business forward successfully. Some of the critical components in a strategic implementation plan include:
Detailing your objectives: What is it you hope to achieve with your project/business. Concretely defining who you are as a business and what you hope to achieve will help to give you a direction to follow.
Creating timeline: Mapping out a timeframe in which you hope to accomplish certain milestones will help you stay organized and on schedule during the implementation phase.
Gathering resources: Any successful project or business must access the necessary resources to sustain the process. Resources include money, time, and staff, etc.
Allocation of team roles: Your business/project is a team effort. Knowing the best position for each of your team members can help to make your team more efficient and successful.
Define your expectations: You should set your expectations in quantifiable and qualifiable terms. Using the right metrics to measure your success can help your team understand the areas in which they do well and the areas that need improvement.
Create a plan B: No strategy is perfect, and there are inevitable pitfalls and setbacks all businesses experience. Knowing how to handle a setback includes having a plan of action ready to go when it comes up.
Check-in: Checking in with your team's progress and having an open dialogue with them will help to keep yourself and your team in the loop. A schedule should be implemented (monthly, quarterly, etc.) in which you will meet with your team and keep them up to date with your business's/project's progress.
Example: Starting a Website
What is Your Website?
Say you are an entrepreneur who hopes to captivate the internet with a new website. To build a quality website that stands out from the rest, you need to develop a proper strategy around it. First, you must ask yourself what kind of website it is that you want to build. Who is trying to reach? What products/services are you trying to sell? Knowing who your audience is and what market you wish to enter will steer the trajectory of your website-building strategy.
Build Your Team
After finding the purpose for your site, you must begin building a team. Building a quality website takes time and effort, and hiring a skilled team will help you through the process. You will need graphic designers, software programmers, marketing experts, and content specialists at a minimum. In addition, a team of experts will provide you with valuable insights into what features work and what will make your website unique and popular.
Design Your Website
The next step is to create your website's design. When designating website design to your team, it is essential to know what features you want your website to possess. Having a solid layout that clearly details your site needs will build a framework for your team to follow and help you set your site's goals.
After mapping out your site layout comes the creative part of website design. This is the part where you and your team decide what the 'feel' of your website will be. In this part, you should consider what you are marketing on your website and who you are marketing to. If you want a site that appeals to a younger audience, for example, you might want to draw up a design that has a modern feel, one that is simple and sleek. However, regardless of your audience, your website should be easy to navigate for anyone, content should be easy to access, and the site's purpose should be easy for anyone to understand.
Create Content
Content is an essential aspect of a website that can help keep your brand relevant. Having engaging content will help build your website's audience and familiarize them with your brand. Your webpage links should work, headlines and articles should be easy to read, and videos should play seamlessly. Having a social media presence will also help you to connect to your audience across various platforms.
Update and Maintaining Your Website
Your website should have a site map. A well-made site map will organize your website's pages into an easy-to-understand blueprint for search engines. A site map will allow search engines to optimize your content best, track updates to your site, and send traffic your way.
After your website is complete, you must make sure to maintain it. Even the best websites experience hiccups, and it is crucial to stay on top of them. If your site goes down unexpectedly, being quick to address it will save you time and resources.