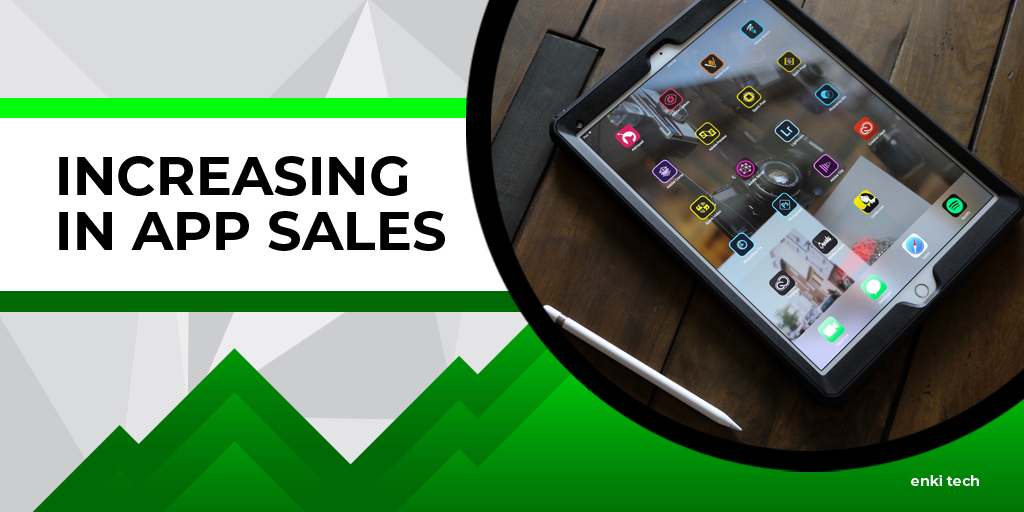 As the digital economy grows, businesses must increase their online revenues if they hope to survive. Ecommerce sales made up about 10% of all retail sales in the US in 2018. Consumers spent more than $157 billion online, up 15% from the previous year, making online retail a very lucrative market for businesses to invest in. Online retail is expected to grow at a steady pace of 15.6 percent every year for the foreseeable future. Many companies have noticed this trend and have begun creating apps specifically to sell products online. E-commerce giants such as Amazon have greatly benefited from their app, making purchasing easy and fast for their customers. That said, for many businesses, online retail is more accessible said than done. Companies fail to generate online revenue because they do not have a proper business plan in place. It is easy to photograph a product or write a description of a service, upload it online, and set a price for said product or service. However, it is much harder to get people interested in buying it. If one does not analyze the needs and demands of the markets they wish to enter, they may waste their time selling products no one wants.
Honesty is the Best Policy
It might be our instinct to try and embellish the truth about the products and services we hope to sell, but this sort of strategy can quickly backfire on us. Online consumers want to know that what they are purchasing is real and worth the price they are paying for it. Online thrifting is becoming an increasingly popular way for consumers to get high-quality fashion for affordable prices. The resale retail market has grown 21 times faster than the traditional retail market, with reselling apps like Thredup leading the charge in the online retail market. Consumers know that they are purchasing previously owned clothing. That said, sellers who are hoping to turn a profit on their clothes should be honest about the condition of the material and fair with the price they sell it at. A designer handbag (i.e., Gucci) is not worth 100 dollars if there is a hole in the bottom of it. People want to know that they are buying a quality product for a fair price. Even used products can generate revenue if the seller is honest about the condition the item is in. If you are selling a previously own product, make sure that it is in workable condition, do not sell people products that are broken. When describing the said product, phrases like 'gently used' and 'slightly worn' will give potential customers an idea of the product's state before purchase.
Invest in Advertising
Every day, hundreds of millions of people worldwide utilize the Google search engine. Whether it is for online shopping or for looking up random facts on extinct organisms, the vast majority of people at some point in the day have their attention online, creating an opportunity for companies to find potential customers. Businesses hoping to make a sale need to be where their customers are. They must have a presence online. That said, a website alone is not enough. Luckily for these companies, many search engines come with built-in features that allow them to reach their potential customers more efficiently and increase their chances of making a potential sale. Google AdWords is a built-in online advertisement feature in the Google search engine that helps businesses to feature their products and services more prominently online. A company can pay for a Google Ad. The algorithms within the search engine will generate a search page featuring that business, product, or service at or near the top of the search page when a potential customer enters a specific keyword or phrase into the search bar. Companies should be precise with the keywords they choose to attach to their product or service. Too many general keywords can mean that even though your product or services may be featured a lot, the consumers receiving the advertisement will be less likely to purchase the product or service. For example, if you are a razor company that hopes to sell its razors online, you might want to buy an ad on Google AdWords and choose keywords such as razor, beauty, health, hair, hairstyle, groom, grooming, etc. The more targeted the ad and keywords are, the more likely your ads will reach a consumer who will purchase your product or service.
Testimonials Build Trust
One way to get customers interested in what you are selling online is through customers. Word of mouth is one of the oldest and most effective ways that businesses have made a sale. Think about it; we are more likely to purchase if our friend or neighbor swears by the product. The words of the people we trust have much more impact on our purchasing habits than just an ad. Unlike an ad, a testimonial can feature a person's honest experience with a product or service. People are much more likely to connect with your business if they believe that what they are getting is the real deal and verified by others. Companies can use the social media networks of their customers to their advantage, building up an audience that trusts their friends' opinions on and experiences with different products and services. In addition, professional accreditation's from government organizations or citizens bureaus will help build up the reputation of your business as one that can and should be trusted.
Buy It! And Buy It Now!
Statistics show that at least 75% of e-commerce website visits do not end up in a purchase. Most people tend to browse the Internet with no intention of buying anything. But a business can change that by creating a sense of urgency within their customers. Offering potential customers coupons and limited-time deals can help to increase this urgency. Many retail apps offer their customers free items or items at a reduced price for simply downloading their app. These special deals will look more enticing to potential customers, as they will allow them to save money on a product or service and get acquainted with the brand. Having a select range of items and a limited time to purchase said items will also increase that urgency. When given too many choices, people tend to forgo a purchase, but if they have a narrower field to choose from and the potential of a great deal at their fingertips, they are much more likely to spend their money on it.
Make it Easy and Accessible.
The worst parts of shopping in person are the long lines and slow customer service. An increasing majority of people are choosing to forgo the in-person process and shop from the comfort of their homes. Purchasing an item from a website or app should be easy and seamless for all potential customers. An overly complex checkout process is a turn-off. Simplifying the process keeps the customers' needs in mind and increases the likelihood of revisiting your e-store. Amazon allows its customers to track their order until it arrives at their door and enables them to return their items in the mail for free. When a customer shops online, they should not have to go through the hassle of slow service. Have a simple form with which they can fill out essential purchasing information and have a number they can call or text, an email, and a social media handle they can message if they have any problems or inquiries. Make purchasing easy and customer service plentiful.